Recognized, respected and rewarded: Aktea calls for a fair treatment and a voice for women in fisheries and aquaculture
 Over 40 fisherwomen from 9 Member States gathered for three days to raise awareness about their work, on the need for gender equality and for their important contribution to European fisheries.
Brussels, Belgium, 27h February 2019 – 40 women professionals from the small-scale fisheries sector, from the Netherlands, Ireland, Spain, Malta, Cyprus, Italy, Croatia, France and the Azores gathered in Brussels over 3 days from the 24 to 26 February, to revive, renew and relaunch the AKTEA European Network of Women in Fisheries and Aquaculture.
Strengthening the organizations of men and women professionals and their participation in governance is a key part the  project "Mainstreaming small-scale low impact fisheries in the Mediterranean", which is implemented by the Low Impact Fishers of Europe (LIFE) with the support of the MAVA Foundation (https://lifeplatform.eu/eu-projects-2/). The pan European meeting was co-organised by AKTEA and LIFE, in partnership with the European Economic and Social Committee (EESC), thanks to this project.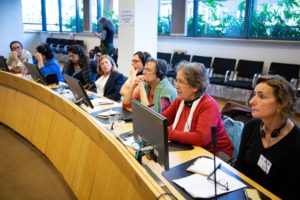 In a video address to the meeting, European Commissioner for the Environment, Oceans and Fisheries, Mr Virginijus Sinkevičius, acknowledged that there is still a long way to go in order to give women the place they deserve. He observed that many family enterprises in the small-scale fisheries sector rely on women for shore based administrative and manual tasks, which are "not remunerated, rewarded or recognized". This puts women in a very precarious situation, he said. He further stated that it is unacceptable in the 21st century for women to be so strongly underrepresented in formal governance and in the decision-making bodies of professional organizations. He highlighted the potential of the European Maritime and Fisheries Fund (EMFF) to address deficits in gender equality, and underscored his commitment to promoting the social dimension fisheries – including gender equality and the role of women in fisheries in the implementation of the Common Fisheries Policy, which will be reviewed by December 31 2022.
On day 1, participants – shellfish and seaweed gathers, vessel skippers, gear riggers, entrepreneurs engaged in fish processing, marketing and "pesca-tourism", and fishing family members supporting family enterprises – met informally, got to know about each other's situations, and began to formulate plans for the future.
Day 2, hosted by the EESC, was devoted to a capacity building workshop, where participants learned about how European fisheries and social policies, if properly implemented, could make all the difference to their livelihoods.  Sr Gabriel Sarró Iparraguirre, EESC Rapporteur on the social dimension of fisheries, welcomed the participants. Drawing on his own experience working at sea in the fisheries sector over many years, he explained that it is the womenfolk – wives, mothers and daughters – who give value to European fisheries. They are the driving force and constant source of support to the work done by men he said. Brian O'Riordan, Executive Secretary of LIFE, highlighted how Europe's fishing policies have become victims of their own success; promoting increased productivity and technological progress, industrial fishing had depleted European seas and marginalised traditional small-scale family based livelihoods, which could make all the difference if given the chance.
Katia Frangoudes, one of the founders of AKTEA in 2006, highlighted how gender equality is a fundamental principle of the European Union, with equal pay for work of equal value included in the 1957 Treaty of Rome. Despite significant progress at European level in recent years on equal treatment policies and legislation, gender mainstreaming, and despite the reaffirmation of gender equality in the Union in the 2007 Lisbon Treaty, gender equality is still a much-neglected area in the fisheries sector at member state level.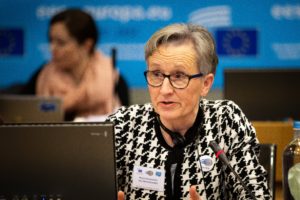 Marja Bekendam, the outgoing Chair of Aktea, highlighted the advances made by women's organizations over the 10-year period that she has been presiding over Aktea. She emphasised that despite this progress, there is still a long way to go, notably for women to engage more meaningfully in the Advisory Councils, and to become more integrated into other decision-making bodies.
Participants spoke with passion on the need for inclusive fisheries policies based on socio-economic rights, implemented through EU regulations and schemes tailored to allow fair and safe working conditions. As highlighted by Farnet's representative, recent studies show that women are key drivers of change and diversification of activities (such as in tourism, restaurants or direct marketing), providing an important share of income for their families, but that very often men remain the owner of the business.
The vital importance of women in the traditions and cultural fabric was illustrated in the presentations made by the participants, as well as the significant socio-economic and environmental benefits they generate. Their empowerment and inclusion are prerequisite for the sustainable management of fisheries activities and the conservation of the marine environment. Calls were made for EMFF funding to be channelled into training and capacity building dedicated for women in such areas as IT, accounting, business management and communication. They also saw the need for creating formal associations and organisations to make their voices heard, to take part in decision-making processes, and the need for measures to prevent the disappearance of their profession which is put at risk by the lack of generational renewal.
Women participants spent their final day discussing how to formalise cooperation through AKTEA, and agreeing on priority actions in the short to medium term. Working groups were constituted to develop proposals. The outgoing Chair of Aktea, Marja Bekendam, shared how much Aktea and the solidarity and support she had received over the years had helped her and her family enterprise through difficult times.
A request has been made for a formal meeting with Commissioner Virginijus Sinkevičius in the near future to discuss how the implementation of the CFP can be made more inclusive.
*******