November 2018
Prior to the International Conference of Women in Fisheries in Santiago de Compostela (November 2018), Katia Frangoudes and Marja Bekendam, representing AKTEA, visited two members organizations of the network in Galicia:  Amarcarril and Mulleres Mar Arousa.
The association Amarcarril, based in Carril, gathers mariscadoras of the community who are, inter alia, organising visits for tourists and schools to explain their work and also the functioning of shore ecosystem. The association also created an exhibition room in the building of the auction where they show photos of shellfish harvesting as well as the main tools to practice such activity. Posters and other products are used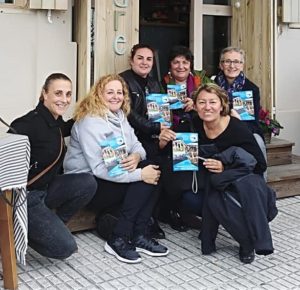 to communicate about their activity. Amarcarril women told Katia and Marja about their work, their working conditions and the difficulties they are facing in the sector. AKTEA asked them what are their main messages for the decision-makers in Brussels and their prioriy is the reduction of the age of retirement which is now at 65 years old. Because of the difficult working conditions they find it hard to practice this activity until such an age and therefore they ask to retire earlier, like fishermen do. Besides that, the prices of their products are decreasing because of the import of foreign products. A regional certification of shellfish may help them to increase the price as consumers would be able to better identify their products. Their last demand was related to the size of shellfish, because in this part of the Ria Arousa shellfish are vulnerable to natural hazards and high mortality is observed during some months. For this reason, the mariscadoras of Carril claim for a flexible minimum conservation size which could be adaptable to each local context in order to avoid the loss of their production.
Later in the afternoon AKTEA's representatives visited the association of Mulleres Mar Arousa in Villa Nova. This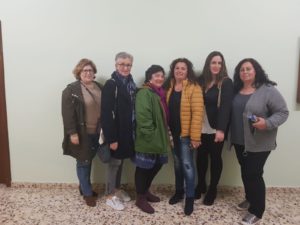 organization is gathering women of the communities around Ria Arousa. They practice a number of  different activities related to the sea such as mussels farming, shellfish and percebes (barnacles) harvesting and direct marketing. In Galicia, women harvesters used to chair several cofradias (fishers organisations) and demonstrated  their skills in managing male-dominated organizations'. However, since the cofradias' most recent elections, the number of women leaders decreased considerably. For this reason Mulleres Mar Arousa decided to raise awareness about the matter and publicly claim for more gender sensitive regulations that would allow women to get back to managing cofradias. The association made noise about the matter through letters and articles in local newspapers  addressed to fishers' organisations, authorities and the general public, thus highlighting the urgent need to recognize women's rights in the sector.